Luxury Private Bush Camp
We proudly offer our clients a eco-friendly, private camp in the bushveld with all the luxuries you need. This was the brain child of Reon and Elmay. The camp was build in unison with the bushveld. Our dream was to keep it as natural and comfortable a possible. The camp was build using local service providers, rock and sand from the property itself. We also used indigenous plants that use less water and are sustainable in these African conditions. The camp has full electrical and solar power, hot water is provided with a "donkey" system. We cook on the open fire or use gas.
We have wifi in the main area and Adaptor plugs are provided in each room -For you convenience we also provide a blow dryer per room.
What a blessing to offer this to our clients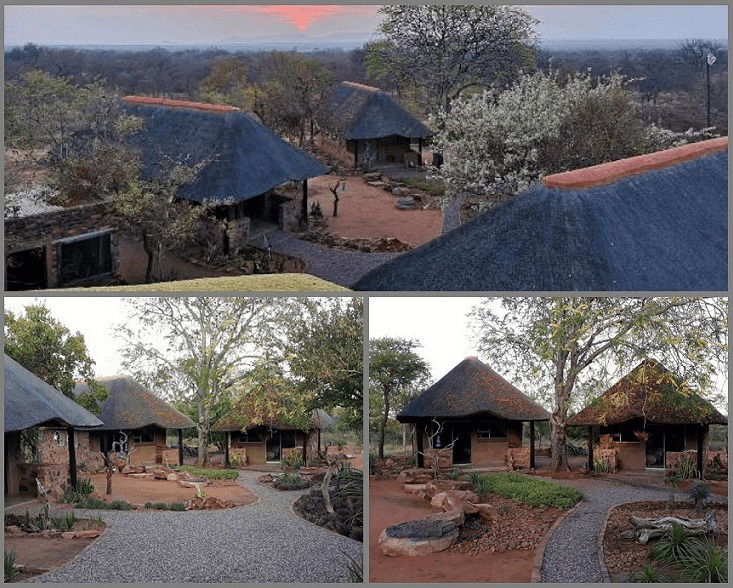 Private Chalet
The 4 Charlet are spacious and comfortable, private porch, room and bathroom. These spacious private rooms offer a double bed and single bed. There is a comfortable chair, large closet and dresser with a mirror. You also have a small save for valuables. The power points in the rooms are USA and CANADA adaptable. Your private bathroom has hot and cold water, flash toilet and a large shower overlooking the bushveld.
Main Lodge offers free wifi, build in bar, dining area and lounge


The camp is set up for families to enjoy. A stunning destination for hunters, observers or general bush lovers. The kitchen is equipped with all your necessities including a nice big black pot for "poitjie kos" (traditional african dish). The rock pool is a must for all Summer guests. The view from the pool is amazing. No better place to cool down and have a few sundowners. The fire place is one in its own. The best stories and marshmallow cookies are shared here. There a various hiking trails from the lodge for the observers or Mountain bike path ways. Or you can just sit and enjoy catching up on some reading while looking at the animals passing by.
Great food mixed with your personal choice and African cuisine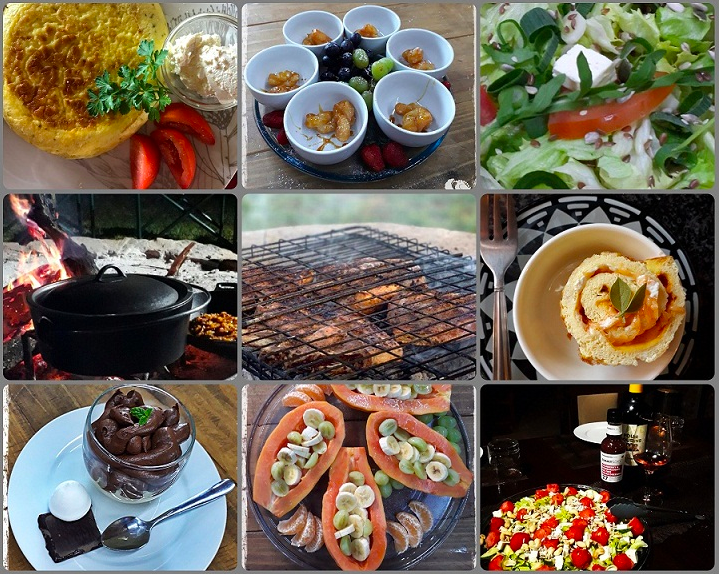 What to expect
The beauty of the African Bush. Seeing animals passing by, large plains game like kudu and Impala or small critters like rock rabbits and monitor lizard. Waking up to the different sounds of the birds. Our international guests are treated to full catering, all your laundry, cleaning and cooking will be done for you. So travel light. We even provide hair dryers. We want you to come and enjoy. If you are not out hunting expect some time for reading or photography or just laying in the sun. We also cater to our non hunting clients with various other activities.
Combination Hunters and Observers
African Barefoot Safaris proud ourselves in the fact that we offer observers and hunters a great African Experience. We offer add on tours, day visits and various other activities- juwellery private show, curio shopping, elephant ride, horse back safaris, day walks, cradle of humankind, Lesedi Cultural village visit ect. Please contact us in advance should you be interested in any other activities or tours in order to do bookings to avoid disappointment